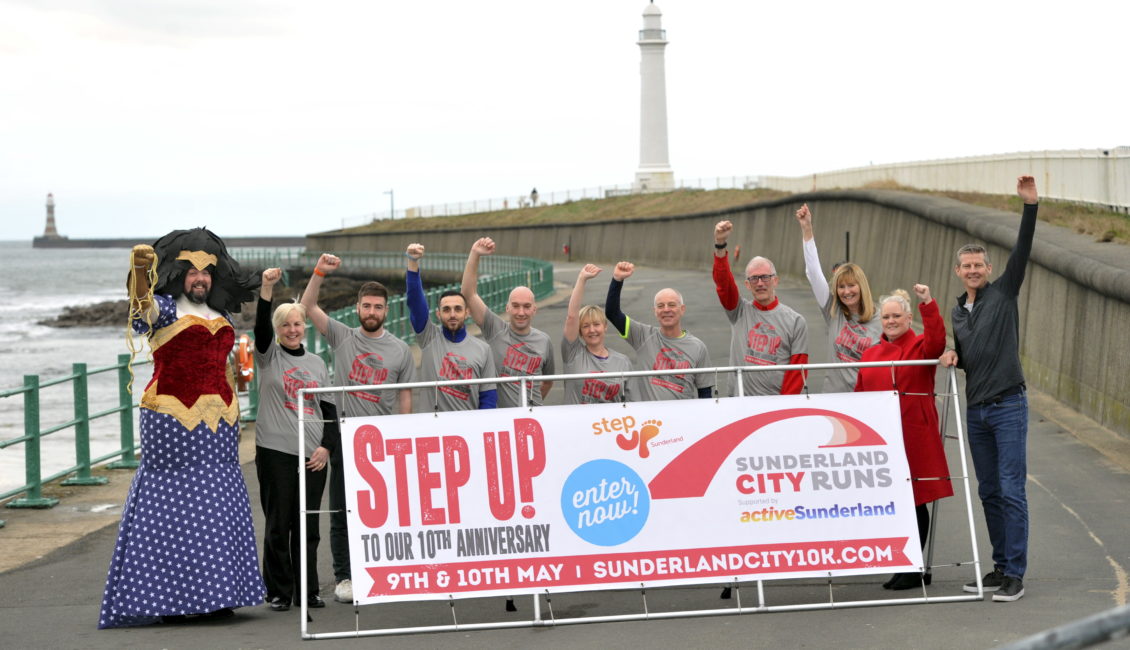 'Sunderland Superheroes' from all walks of life have assembled to encourage the public to get involved in the 10th anniversary of a major festival of running in the region. Nominated by members of the public towards the end of last year, the Sunderland Superheroes include charity fundraisers, grass roots athletics volunteers, and people who have continued to run despite having to also battle conditions such as multiple sclerosis or cancer. Each superhero has been given a free place at one of the Sunderland City Run events on 9 and 10 May, organised by Events of the North in partnership with Sunderland City Council.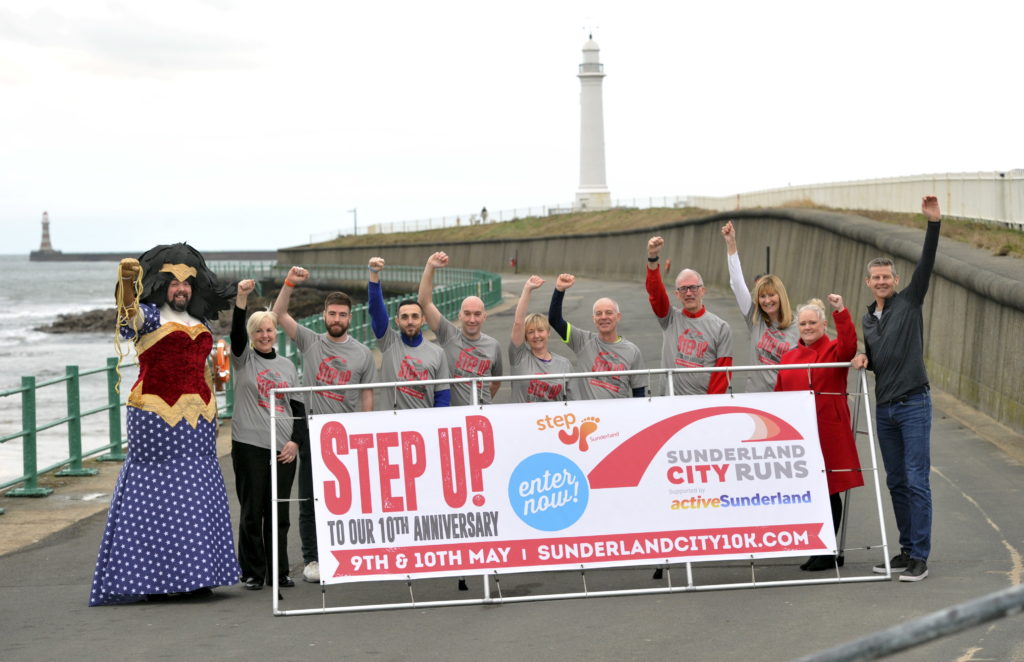 The Sunderland Superheroes gathered together for the first time on Monday at Sunderland City Run official hotel partner the Grand Hotel, where they were played a video message from the North East's own 'Wonder Woman', world record holder Aly Dixon, who is currently training in Kenya. In her absence, Colin Burgin-Plews – aka Big Pink Dress – transformed into Big Pink Wonder Woman for the occasion. Event founder Steve Cram was on hand to offer training tips to the superheroes and joined them for a run along the promenade. As well as taking part in either the Sunderland City 5K, 10K or Half Marathon, the Sunderland Superheroes will help to promote the events to the public, pushing the message that there is a run suitable for everyone and supporting both the city council's Step Up campaign and a series of free Start Me Up For Sunderland (SMUFS) training sessions, starting on Wednesday 29 January. Those who enter a Sunderland City Run event can sign up to the SMUFS sessions by emailing info@eventsofthenorth.com (places are limited and on a 'first come first served' basis).
The Sunderland Superheroes include:
Dominic Lavelle. Dominic, 31, suffers from multiple sclerosis and gruelling treatment has had a big impact on his life with a young family, and on his running. Despite being unable to get out of bed at times, Dominic has managed to take part in running events to raise funds for the MS Society and plans to do the same again in Sunderland in May.
June Hindmarch. June is 72 and has only been running for a couple of years. Her enthusiasm for the sport as an older runner is infectious and inspirational to all who know her.
Scott Baker. Last year, Scott finished an epic challenge of completing 1,000 10K runs in 1,000 days, raising money for Target Ovarian Cancer in the process.
Sandra Dormand. Sandra has fought cancer twice and in January 2019 joined a beginners' course at Sunderland Strollers. She now runs two to three times a week and the person who nominated her stated: "When we are all ready to give up, Sandra will continue and gives us the motivation to do the same. She won't let anything beat her.".
Darren Tate. Darren is a keen athlete who spends most of his running time working with the GoodGym initiative to help others, and is also in the process of setting up a community interest company called Suitability that will help men find employment by offering them free interview clothing and advice.
George Harden. George is from Washington and has been part of the North East's running community for longer than most people can remember, giving up his own time to coach runners of all ages and volunteer at a huge variety of events, week in week out.
Deb Howell-Smith. Deb supported a close friend who had gone through treatment for cancer, helping her to get active and fit again by building up to Sunderland City Run events in 2019.
Michelle and Paul Mustard. Michelle and Paul lead the Silky Striders, a Sunderland based running group for beginners, which has many members who have battled back from a wide variety of illnesses. Devoting three days a week to the club, Michelle and Paul offer outstanding support and encouragement to everyone, helping them to get active and fit.
Colin Burgin-Plews – aka Big Pink Dress. Colin is a North East charity fundraising legend, who has raised hundreds of thousands of pounds for good causes in recent years, taking part in running events in his very colourful, distinctive and large outfits.
Stephanie Hutchinson. Stephanie is integral to the success of Big Pink Dress, helping Colin with his fundraising, dress preparation and race planning.
Marie Brett. Marie has been instrumental in introducing the Step up campaign which encourages people across Sunderland to be more active in their day to day lives. She is challenging herself to practice what she preaches by stepping up from running the 10k last year to the half-marathon in 2020.
Steve Cram, founder of the Sunderland City Run, comments: "From the day we launched the first Sunderland City Run event, we have always focused on encouraging more people to get involved in running. Throughout my time as an athlete, coach, commentator and fan, I have always known how much good running does for physical and mental health and we want to get that message out to as many people as possible. Working with Sunderland City Council, we've created an event that includes a run for everyone, from the Active Sunderland BIG 3K and Sunderland City 5K, to the 10K and half marathon. Our Sunderland Superheroes all have brilliant stories that showcase how running can transform lives and we'll work together to share those and inspire more people to join us on the starting lines on 9 and 10 May."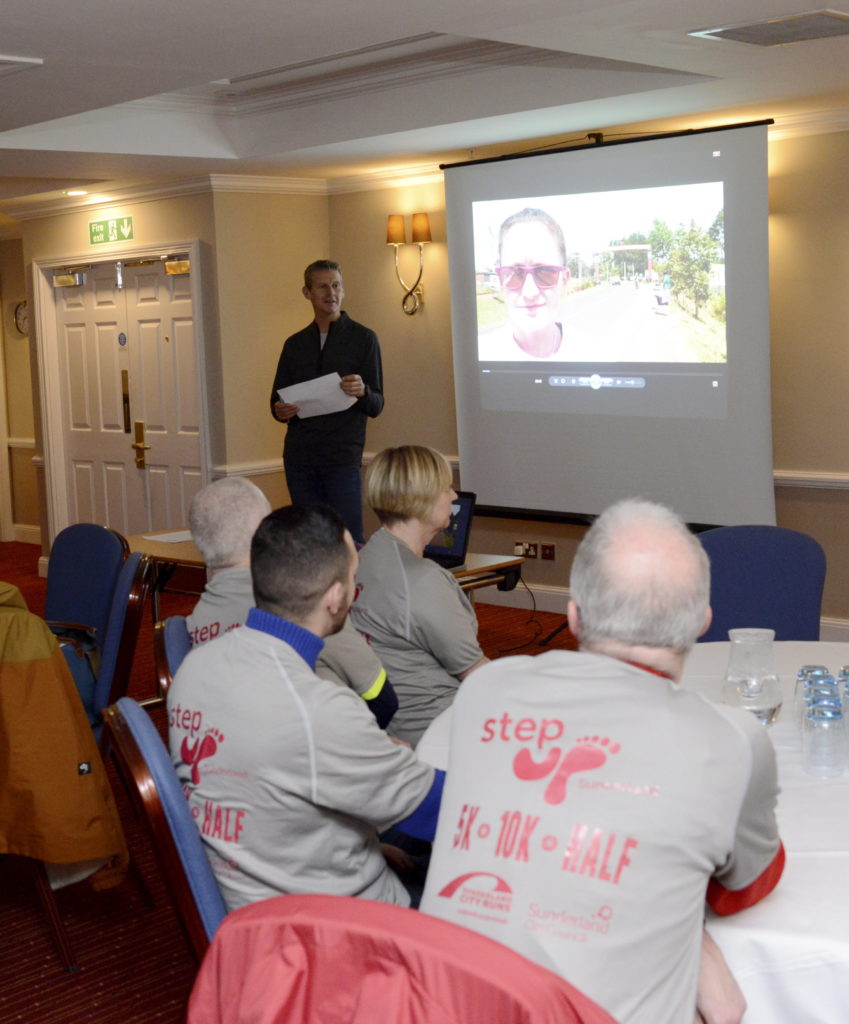 The 2020 Sunderland City Runs will start with the Sunderland City 5K on the evening of Saturday 9 May. The 5K will use the iconic Northern Spire Bridge, providing a spectacular venue for runners and spectators alike. The following morning will see thousands of runners take part in the well-established Sunderland City Half Marathon and 10K, and the Active Sunderland BIG 3K. All three events will start and finish in Keel Square in the city centre.
Places on the 2020 Sunderland City Runs are available now at www.sunderlandcity10k.com. Runners affiliated to a club can enter the Sunderland City Half Marathon for £35 and the price for unaffiliated runners is £37. Places on the Sunderland City 10K costs £25 and £27 respectively and the price to enter the 5K is £15. Anyone who enters the half marathon or 10K as well as the 5K will receive a discount code to redeem in one of the events the following year. All event finishers will receive medals, technical t-shirts and goody bags.
An 'early bird' price for the Active Sunderland BIG 3K is available until 16 January 2020 and is £10 per person, after which it rises to £12. The price includes a technical t-shirt, medal, goody bag and, for the first time, chip timing. For further information about the Active Sunderland BIG Events, email active@sunderland.gov.uk or call a member of the Active Sunderland Team on 0191 561 4572.