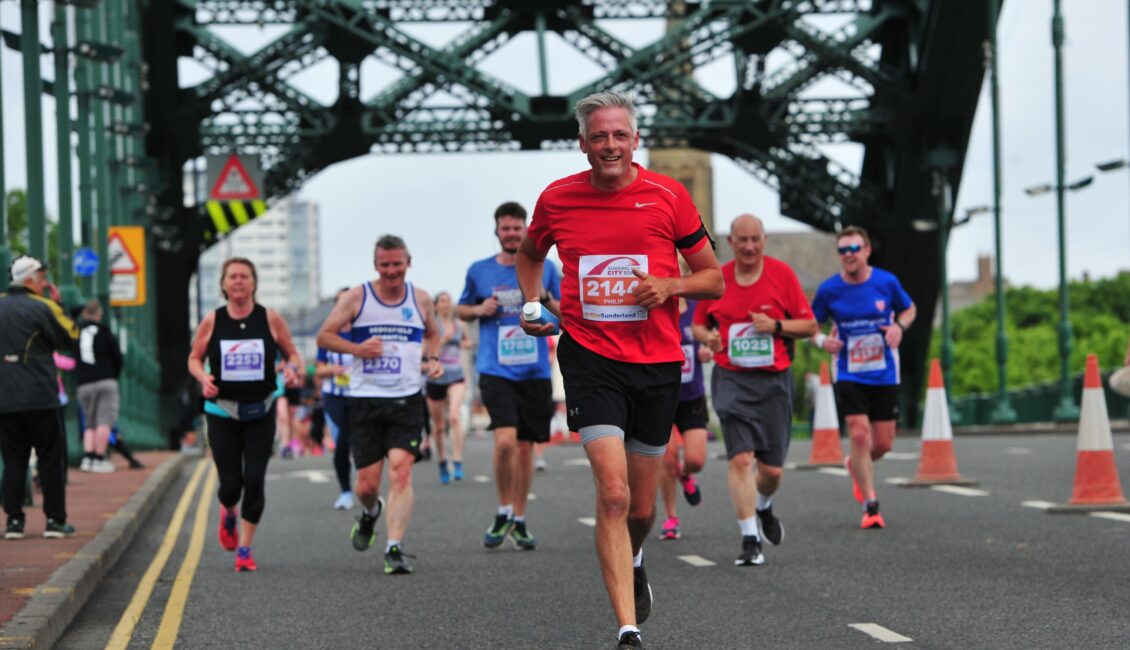 Thousands of people enjoyed a return to mass participation racing at the 2021 Sunderland City Runs this weekend. Organised through a partnership between Events of the North, Sunderland City Council and its Active Sunderland team, the Sunderland City 5K, 10K and Half Marathon were hosted on 19 and 20 June, with COVID-related measures in place for the safety of all runners, volunteers and local residents.
The Sunderland City Runs weekend began on the evening of Saturday 19 June with the Sunderland City 5K, which started and finished on the Northern Spire Bridge. In an approach that was used for all of the races, runners stayed socially distanced before they ran and were give space as they assembled for the start. They were set off in colour coded waves a few seconds apart. All of the final results were based on chip timing, so participants did not have to worry about their starting position on the road. Once runners finished, they kept moving to an open air space where they collected water, medals and goody bags, before being encouraged to leave the area quickly.
In the Sunderland City 5K, the men's race was won by Carl Avery of Morpeth Harriers in 14 minutes and 48 seconds, with Finn Brodie of Tyne Bridge Harriers second in 15:01 and Mark Walsh (Keswick AC) third in 15:15. The women's race was won by Danielle Hodgkinson (Wallsend Harriers) in 16:30, followed by Lydia Turner (Birtley AC) in 18:01 and Aly Dixon (Sunderland Strollers) in 18:03. The race was preceded by the Active Sunderland BIG 3K, which was won by junior Birtley AC runner Martyn Rahmann in 11:14.
On Sunday 20 June, over 2,000 runners tackled the Sunderland City 10K and Half Marathon, following the same procedures as the night before, all based around a well-spaced set up near Keel Square. In great running conditions, the 10K started proceedings and the clear winner was Team GB's Ben Connor in 30:03. In his final race before representing his country in the marathon at the Tokyo Olympic Games, Connor recorded a convincing victory, ahead of Graham Rush (Leeds City AC) in 30:52 and Stephen Jackson (Sunderland Harriers) in 31:18. The women's race was won by Claire Duck (Leeds City AC) in 34:37, with clubmate Georgia Malir claiming second in 34:53 and Georgina Weston (Rotherham Harriers) third in 37:36.
The Sunderland City Half Marathon was won by Conrad Franks of Gateshead Harriers in 69:02, with Nick Hardy of Tipton Harriers second in 71:19 and Mark Hood third in 72:30. Josie Rawes of York Knavesmire Harriers won the women's race in 83:34, with Kimberly Simpson of Gateshead Harriers second in 84:43 and Catherine Young third in 85:19.
Race director Steve Cram comments: "We're absolutely delighted with how everything has gone today. A huge amount of planning went into putting on this event safely for all involved and we're very grateful to Sunderland City Council for working with us so closely to make that possible. Our runners were fantastic in following the rules that we introduced this year, and the start and finish arrangements worked very smoothly on both days.
"I don't think I've seen such a high percentage of smiling faces at a big race event – both the runners and our amazing volunteers were so happy to be back in action again. This weekend, we have demonstrated that it is possible to hold a mass participation event like this, despite the current restrictions. Being able to do that is so important for people's physical and mental wellbeing, and I really hope that this fired the starting gun for more city centre races to return over the summer."
Other Sunderland City Runs event supporters were Everyone Active, the University of Sunderland and the Grand Hotel.