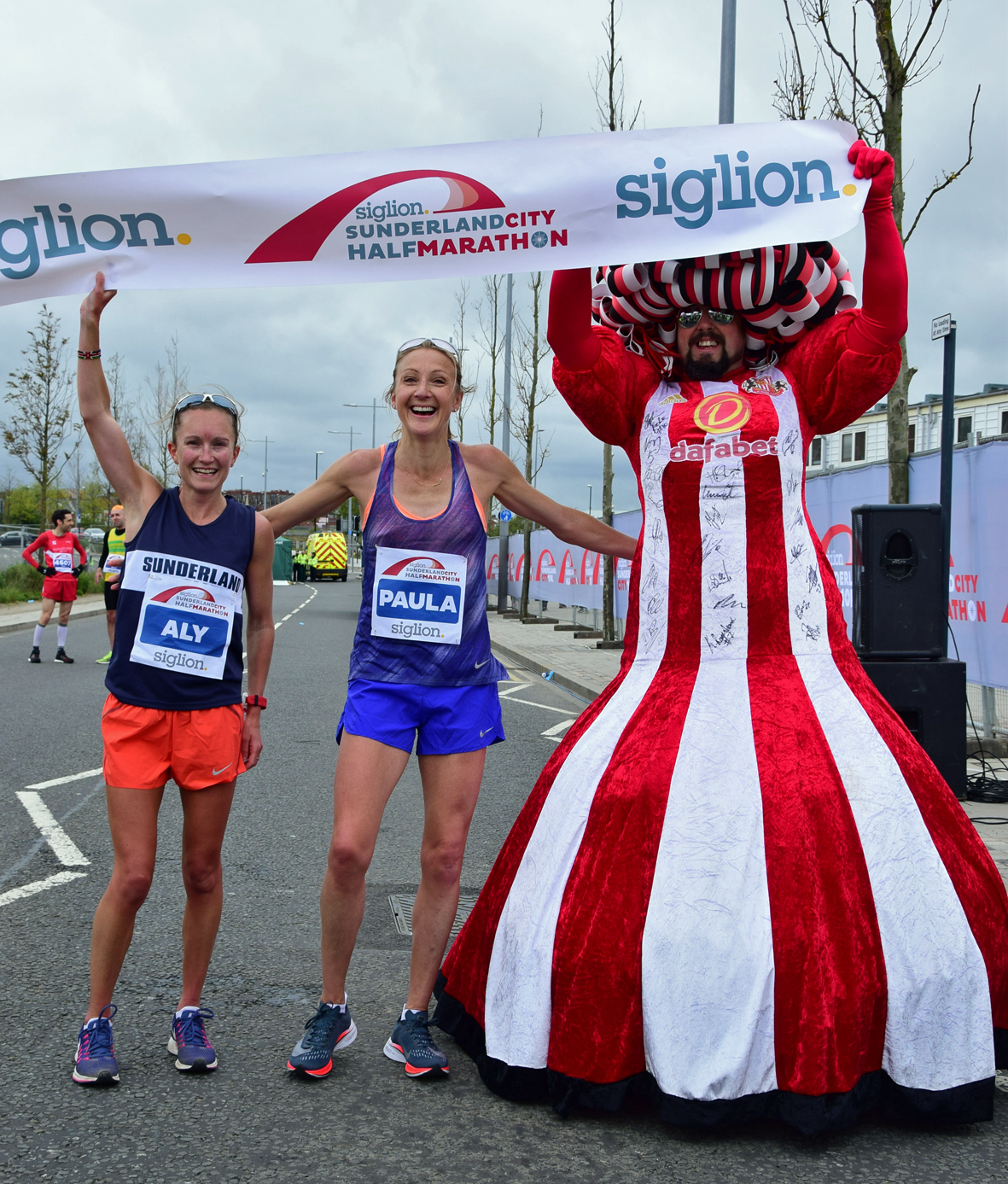 A well-known North East charity fundraiser, who announced in 2018 that he will be scaling down his activities, plans to bow out in style at running events in the region this year. Colin Burgin-Plews is better known as Big Pink Dress and has become a hugely popular participant at races in recent years. Colin has decided to take a break from his most high-profile fundraising to spend more time with his family, but not before appearing at a series of North East events, including the Siglion Sunderland City Runs in May and Durham City Run Festival in July.
At well over six feet in height even before he dons his famous homemade dresses, Colin Burgin-Plews stands out from the crowds around him whenever he takes part in a run to support one or more of his chosen charities, led by Breast Cancer Now. Colin, 50and from South Shields, makes a special dress and headgear for events, with each costume weighing between two and three stones and taking his height to over seven and a half feet. Big Pink Dress is about to head south to take part in the London Marathon, before returning to the region to round off his fundraising runs in Sunderland, Durham and then finally at the Great North Run in September.
The Siglion Sunderland City Runs on 11 and 12 May and Durham City Run Festival from 25-27 July are being organised by North East athletics legend Steve Cram's company Events of the North. The Jarrow Arrow and his team have worked closely with Colin in recent years and are helping Big Pink Dress to make sure that his fundraising finale is a big success. Colin has made a special dress for Sunderland, where he will be taking part to support the event's official charity partner, St. Benedict's Hospice. Following that, in the week leading up to the Durham City Run Festival, Prince Bishop's Shopping Centre will host an exhibition of the 60 dresses that Colin has made over the years, which will be displayed in the centre's shop windows.
Colin Burgin-Plews explains: "Over the years that I've been doing Big Pink Dress there have been certain events that have become essential to do and the Siglion Sunderland City Runs fit into that category. It's truly an amazing occasion – the crowds, the volunteers, the goody bags and the
general atmosphere are all superb. Last year, I was approached by Anthony McDermott from St Benedict's Hospice, who asked if I fancied running for them. I went to the hospice to look at the brilliant work they do and I was blown away by the dedication all the staff and volunteers showed, so of course I agreed and it will be a huge privilege to support St. Benedict's in Sunderland in May.
"Surprisingly, I've never done a Durham City Run event, but this year that all changes. I've heard so many amazing things about it and to top it all off it's now a three-day event with Paula Radcliffe's Families on Track event as the finale.I'm truly honoured to have been asked to exhibit some of my many dresses at Prince Bishop's Shopping Centreduring the week of the event – I can't wait to see them on display.
"The Events of the North team are amazing – they all put their hearts and souls into making every event truly memorable and I'm so looking forward to working with Steve and co again."
Steve Cram comments: "Colin is a genuinely inspirational figure who has been such an important part of our runs in recent years, epitomising what makes events like ours so special. He's a one-off, who stands out from the crowd while selflessly raising thousands for absolutely brilliant causes. We're so pleased that Colin will be with us at the Siglion Sunderland City Runs and Durham City Run Festival and will do all that we can to make sure that he raises a lot of money for St. Benedict's and his other chosen charities. There's going to leave a very significant Big Pink Dress sized hole at many North East running events after 2019!"
Entries for the Sunderland City 5K on the evening of Saturday 11 May, and Siglion Sunderland City 10K and Half Marathon on the morning of Sunday 12 May are open at www.sunderlandcity10k.com.
Full details of the Durham City Run Festival can be found at www.durhamcityrunfestival.com.
To donate to Big Pink Dress's fundraising, visitwww.virginmoneygiving.com/bigpinkdressfundraising.