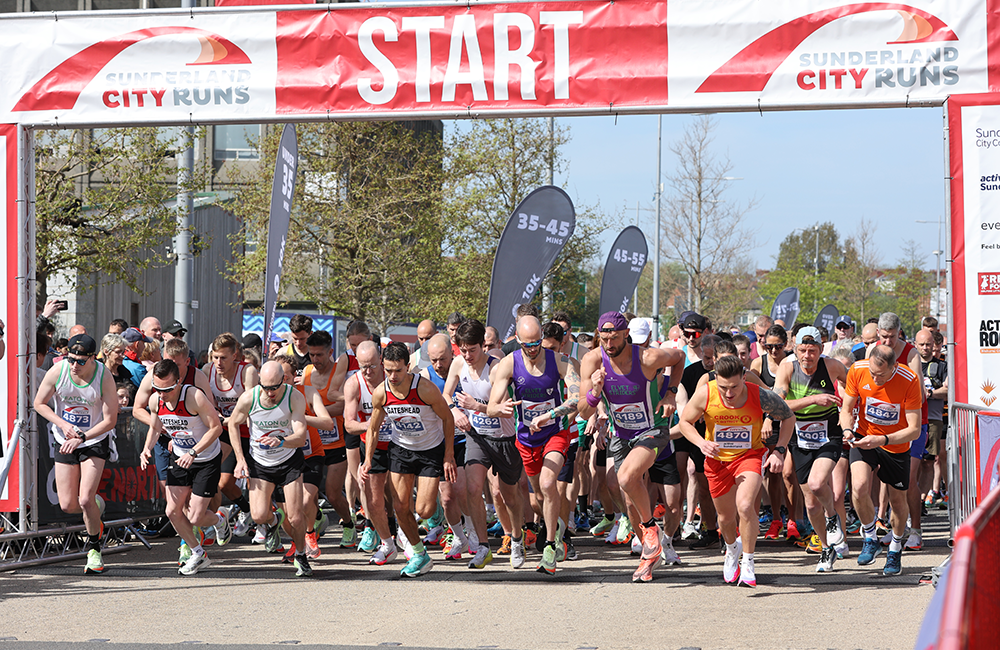 Around 3,000 participants enjoyed sunny weather on Wearside during the 2022 Sunderland City Runs. Organised through a partnership between Events of the North, Sunderland City Council and its Active Sunderland team, the Northern Spire 5K, Sunderland City 10K and Half Marathon and Active Sunderland 3K were hosted on 7 and 8 May, kicking off a summer of major sporting attractions in the city.
The Sunderland City Runs kicked off with the Northern Spire 5K on the evening of Saturday 7 May, in a race that incorporated an elite field of leading club athletes in the fast5K. Carl Avery of Morpeth Harriers retained his title in the men's race, crossing the line in 14 minutes and 25 seconds, just ahead of Tommy Power of Hallamshire Harriers Sheffield in 14:26 and Hallamshire's Jamie Hall in 14:28. Also successfully defending her title in the women's race was Danielle Hodgkinson of Wallsend Harriers in 16:02, with Philippa Stone of Middlesbrough Mandale AC second in 16:10 and Gemma Hillier-Moses of Charnwood AC third in 16:42.
The Sunday action began with hundreds of young athletes tackling the Active Sunderland 3K, who were set on their way by Mayor of Sunderland Cllr Henry Trueman, and cheered on by a large crowd of family and friends. The Sunderland City 10K was next off, with the biggest field of runners of the weekend. Liam Aldridge of Billingham Marsh House Harriers was first over the line in 31:18, followed by two Sunderland Harriers, Liam Taylor in 31:52 and Stephen Jackson in 32:20. Former Team GB Olympic athlete and Sunderland Stroller Aly Dixon won the women's race in 35:34, with Imogen Bungay of Elswick Harriers second in 37:36 and Elswick's Robyn Naylor third in 40:48.
Continuing the theme, Conrad Franks of Gateshead Harriers won the Sunderland City Half Marathon for the second year in a row, in 68:53. Conrad dedicated his win to Gateshead coach John Stephenson, who passed away earlier this week, and had supported generations of athletes and represented the club for over 60 years. Conrad comments: "John coached me for 16 years and he was a gentleman and a lovely man. So it was quite an emotional moment to win this race after such sad news."
James Mckenzie of Heaton Harriers was second in the men's Sunderland City Half Marathon in 73:27, with Jacob Hiom third in 74:48. The women's race was won by Gemma Hillier-Moses of Charnwood AC in 79:46, with Josie Rawes of York Knavesmire Harriers second in 83:16 and Kim Simpson of Gateshead Harriers third in 84:03.
Race director Steve Cram comments: "We've had a really great weekend of races in Sunderland. The weather behaved on both days and running conditions were very good, leading to some excellent times at the front of each field. It was fantastic to see so many smiling faces among our runners and some really enthusiastic support out around the course from the people of Sunderland. Working closely with the team at Sunderland City Council, I certainly believe that we've delivered a great start to a summer of sports events here in the city."
The winners of the 10K and half marathon races were presented with unique trophies that were created by the National Glass Centre especially for the event. Rachel Smith, director of National Glass Centre, adds: "The team at National Glass Centre were delighted to create a series of bespoke hand-blown glass awards for Sunderland City Runs. We were cheering all of the runners who passed our building during the events."
Many of the runners were raising money for good causes, including scores of Team Red Sky Runners, supporting official charity partner Red Sky Foundation. Hosting the races was possible thanks to the support of an army of volunteers, including a team from new event partner the University of Sunderland. Entries for the 2023 Sunderland City Runs are already open, with early bird prices available until October. All participants in the 2022 races will be receiving an additional discount offer that they can use for a week after this year's event. 
Top five results in each race:
Sunderland City 5K
Men's
Carl Avery (Morpeth Harriers) – 14:25
Tommy Power (Hallamshire Harriers Sheffield) – 14:26
Jamie Hall (Hallamshire Harriers Sheffield) – 14:28
Lewis Gamble-Thompson (New Marske Harriers) – 14:29
Carl Smith (Tyne Bridge Harriers) – 14:33.
Women's
Danielle Hodgkinson (Wallsend Harriers) – 16:02
Philippa Stone (Middlesbrough Mandale AC) – 16:10
Gemma Hillier-Moses (Charnwood AC) – 16:42
Alexandra Sneddon (Jarrow & Hebburn AC) – 17:04
Emily Chong (Chester Le Street & District AC) – 17:49.
Sunderland City 10K
Men's
Liam Aldridge (Billingham Marsh House Harriers) – 31:18
Liam Taylor (Sunderland Harriers) – 31:52
Stephen Jackson (Sunderland Harriers) – 32:20
Nathan Reed (Sunderland Harriers) – 32:46
Lewis Liddle (Elswick Harriers) – 32:49
Women's
Aly Dixon (Sunderland Strollers) – 35:34
Imogen Bungay (Elswick Harriers) – 37:36
Robyn Naylor (Elswick Harriers) – 40:48
Felicity Smith (Elswick Harriers) – 41:07
Amy Callaghan (Sunderland Harriers) – 41:10
Sunderland City Half Marathon
Men's
Conrad Franks (Gateshead Harriers) – 68:53
James Mckenzie (Heaton Harriers) – 73:27
Jacob Hiom – 74:48
James Mcnamey – 76:26
Sam Wood (Saltwell Harriers) – 77:40
Women's
Gemma Hillier-Moses (Charnwood AC) – 79:46
Josie Rawes (York Knavesmire Harriers) – 83:16
Kim Simpson (Gateshead Harriers) – 84:03
Sarah Kerr (Claremont Road Runners) – 89:14
Catherine Young (Claremont Road Runners) – 89:14.