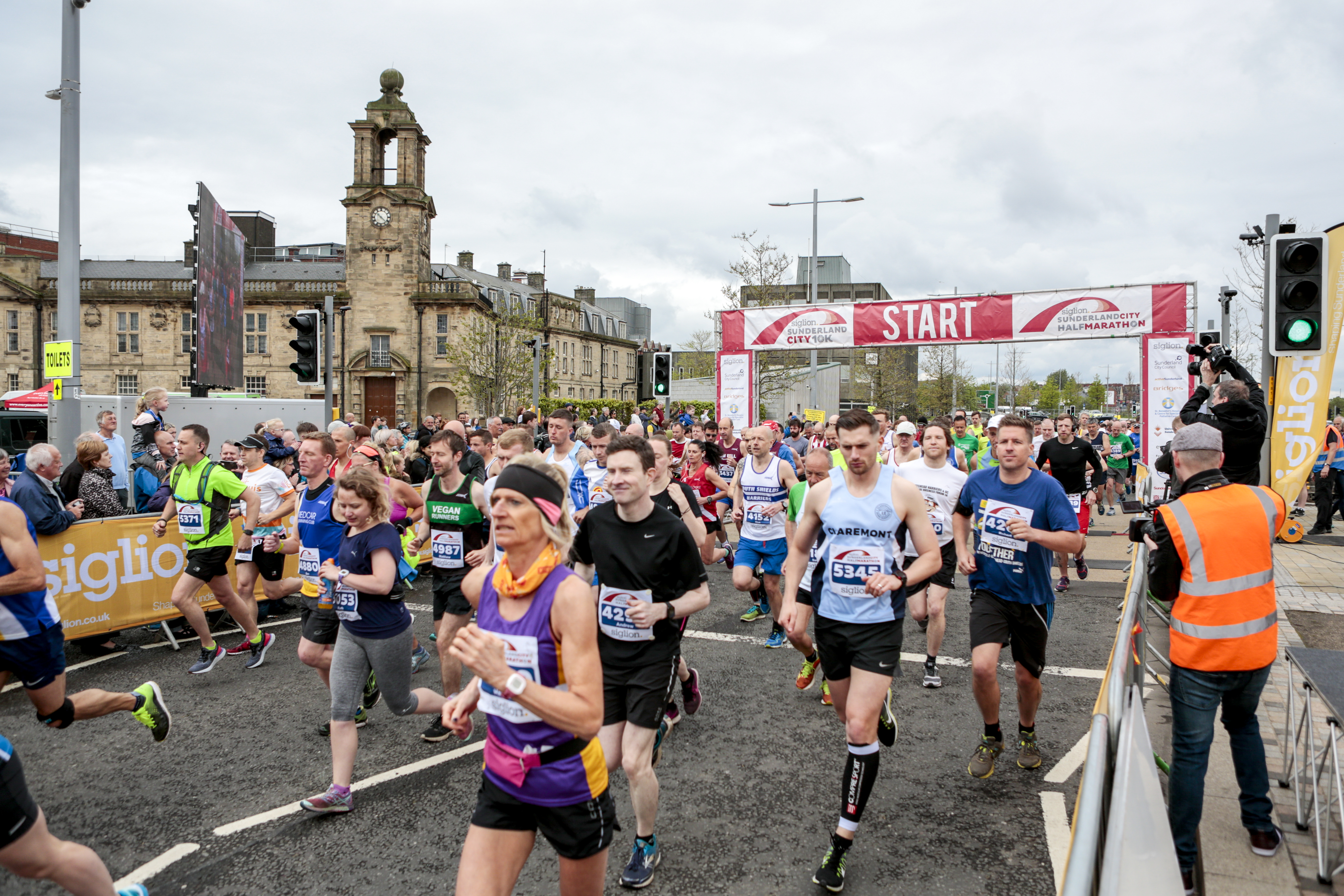 First event? A few things to consider!
Many runners choose Sunderland City Run as their first-ever mass participation event. It could be the friendly organisation, the early summer timing, the stunning coastal views on the course, or just the amazing support we always get from spectators along the way.
If Sunderland is set to be your very first official race, here are a few pointers you might like to start thinking about.
Respect the distance
… whatever the distance! Make sure you train sensibly for the event you have entered. If you're running in both the 5K Saturday evening race and again on the Sunday it's even a good idea to practice running 'back to back' to get your legs used to going again the next day if you'd usually be resting.
We suggest for the 10K that you practice running at least to 8K first, and for the Half Marathon 10 miles is a great benchmark to reach in your training.
Running in the inaugural 5K? parkrun is a great place to start practicing your distance. These fun, friendly and free events take place on Saturday mornings all around the country. Check out parkrun.org to get signed up.
Practice everything!
From trainers, to kit, to that all-important race day breakfast, make sure nothing is new on race day. Use the weeks leading up to the event to break in your trainers and run in items you plan to wear on the day. There's nothing worse than socks causing blisters, and it's far better to find out what might go wrong a few weeks before. And we won't even start on chaffing!
Practice is especially important if you're running in a charity vest or fancy dress as they may be different to what you usually run in. Leave nothing to chance on race day.
Know your race-day plans
In the weeks leading up to the event we will share the road closures for the day and give you guidance on car parking. It's best to have your travel plans finalised at least a few days before so nothing is left to chance on the day. Meeting someone afterwards? Make sure they know where to meet you, and give them an approximate time.
Eat, drink and sleep well
It's good advice for any time but it's especially important in the weeks leading up to your race. Many struggle to sleep well the night before, so stock up on extra Zzzss in the few days before where you can! A healthy diet, a few extra carbs and good hydration the day before can also make a difference to running well.
Prepare a positive mantra
Your first race is something you will remember always so don't let negative self-talk take over on the day. Prepare something positive you can tell yourself when things get tough. Something like "I am doing this" is ideal.
Happy training!