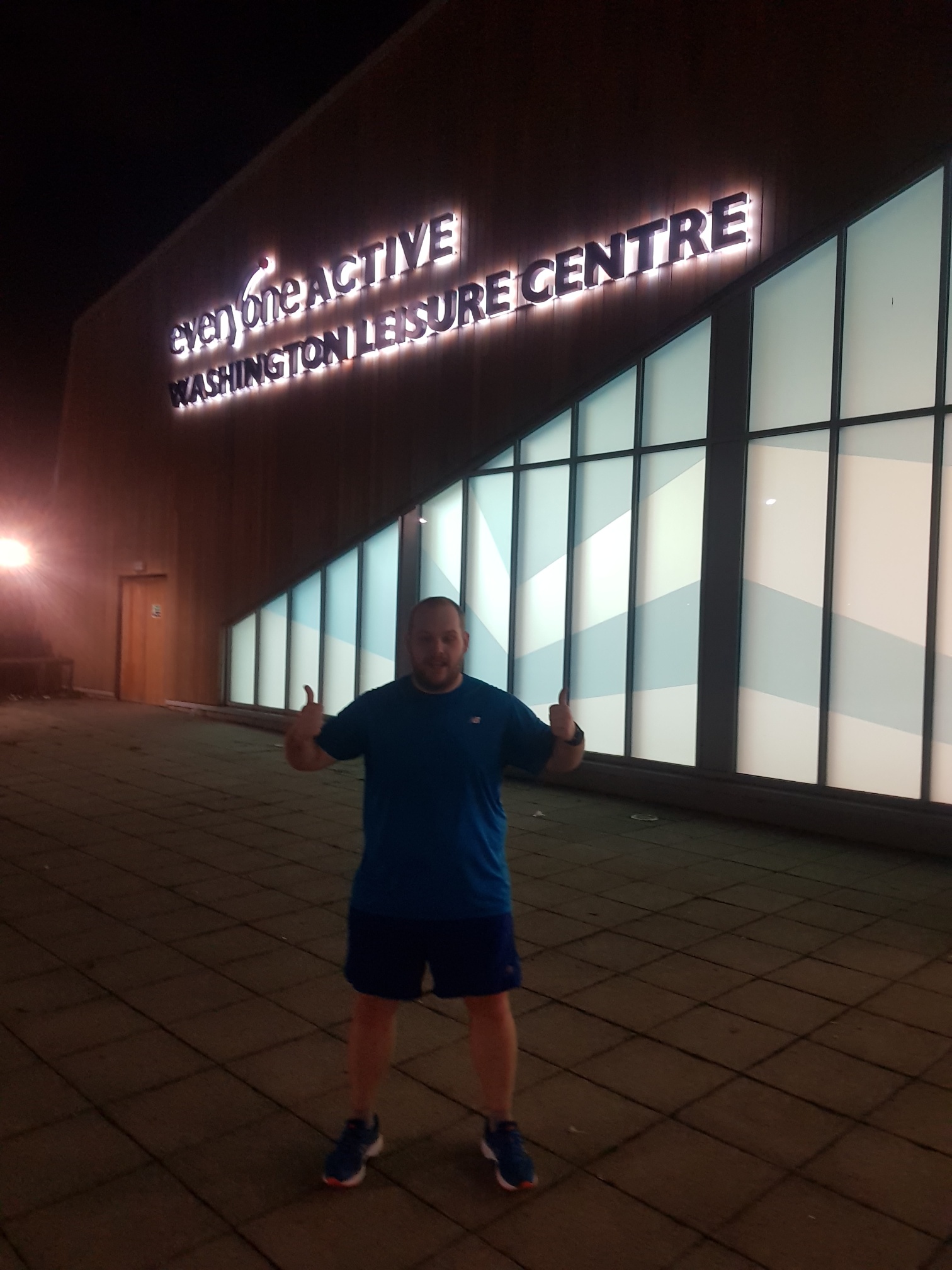 EOTN Ambassador James has battled an injury to come back strong.. and fast! His latest blog is here.
"Here we go again blog babble take two!
So the last few weeks have been tough, if you read my last blog you will remember I had a little injury that was stopping me from running. However I stuck by the message I put across in that blog and have carried on with the focus of what can I do to keep improving rather than what I can't do right now.
Week four.
So in the last blog week three ended with a calf niggle that put the brakes on my running. This week I set my focus fully on what low impact cardio I could do, but still maximise my fitness gains to make sure when I was running again I would come back strong. So using the Everyone Active facilities I have available to me, the gym became my best friend. Spinning classes particularly this week took my fancy. No this doesn't involve spinning around in circles, as my mum thought at first. They are high intensity cardio sessions on bikes, great to get a sweat on and keep the fitness levels up.
Week five.
This week was mentally tough for me all I want to do is run! I'm desperate to get back out running but realise I must listen to my body. This week again is filled with lots of high intensity gym sessions, working on my fitness along with working on my strength and conditioning. The plan is if I put all of the little building blocks in to place hopefully when I can run I will be back stronger than ever. Not much else to really say on this week, sometimes we just have to get our heads down and do the things which are not as fun to help shape the next chapter.
Week six
So after two weeks of no running at the end of this week there was a SMUFS session, I figured if I set my eyes on this as a good friendly environment to test the niggle. At least if it goes wrong I'm in good company with the support around me I need. If it doesn't I can get involved with a session that I can learn a lot from. The week leading up again was a lot of gym work, strength and conditioning. I tried a short run on the treadmill and felt good. Positive signs! So Wednesday arrives, last day of the week as these blogs go. HILLS! What a session to try a first run in. The group where amazing, a lot of buzz around plenty of chatter. We warmed up and talked about the benefits of hill training. Other than the fact they hurt, they are brilliant for building strength and endurance.
So I dive in head first rep…. wait I'm actually OKAY!?  Second rep a little harder, still no pain and I feel really strong. Maybe just maybe I can start running again properly…
Week seven
Where are all of these weeks going ? It will be race weekend in no time at all. The goal this week was to attack parkrun on Saturday and hard, really test my fitness and strength to see where I was.  Is it the right thing to do I am no expert but it's my plan and I'm going to give it a go. I went out early on Thursday for a easy few miles I felt great, it felt effortless and comfortable roll on Saturday. parkrun day comes and I'm fired ready to see what I have in me after working hard away from running. I warmed up waited for the start and off I went. The first 2 miles flew by the pace was literally unheard of for me, all that gym work paying off. Last mile I'm struggling a little but a friendly face drags me to the end that's what I love about parkrun there is always someone to encourage support and help you. I finished strong and most important pain free! The time was superb a huge course PB and a mega confidence boost to get back out running.
So that's where I'm at right now. Back running pain free, brimming with confidence and excited about the next month of training as I step up the intensity over the longer distances. The one thing I have proven to myself this past month and would hope anyone can take away from reading this. If you can't do something specific such as run in my situation. Focus on what you can do to help build you up and prepare for a return, any progress is better than back tracking. There is no such thing as a bad training session, everything we do is steps towards our goals.
Good luck in all your training race weekend is fast approaching !"
Speak soon,
James
You can follow James on Instagram at jcole_sw