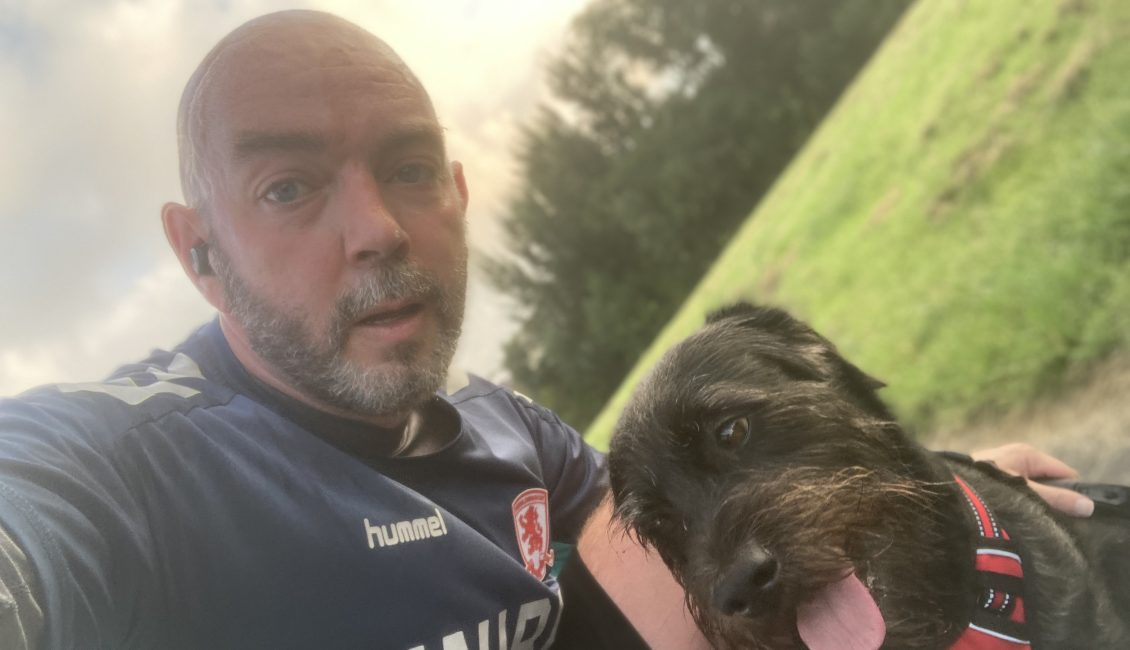 Although I have been running since January 2012, I have to go back to September 2015 to where my running journey really started to make momentum. That month along with a couple of my mates, Dean McCormack and Jeff Boyle, we began a running challenge to run 3000 miles between us in 50 weeks. Doesn't seem a considerable amount to some, after all it only works out at 3 miles a day, however for three unfit, overweight Dads it was a massive challenge.
We started the challenge off steady enough but I remember that December we all found ourselves on the treatment table in one form or another, Dean and I for a few weeks and Jeff for longer. It put us slightly behind schedule and knocked our confidence slightly but the new year was just upon us and we were ready to recommence battle with the miles.
The challenge began to gather momentum in those first few months of 2016. We joined Ben Smith on his Middlesbrough leg of the 401 challenge, joined Swift tees running group and the challenge began to attract some local attention with a piece in the Evening Gazette. Radio appearances swiftly followed on BBC Tees and Metro Radio and we even managed to attract the attention of some Hollywood actors in the form of Luke Skywalker himself Mark Hamill and Rocky and Predator star Carl Weathers. Mark Hamill even sent us a DM on twitter wishing us well and telling us to make a Jedi proud. Geekgasm all round for us three star wars nerds.
The miles started to rack up and with it so did our fitness and confidence. I had covered over 1000 miles of running in 8 months and I completed my part of the challenge in May just days after the Sunderland half marathon. I had hit a 1hour 45min pb at that race and was over the moon. I remember contacting the organisers of the race a few days earlier to tell them we would be running and a bit about the challenge. I remember crossing the finish line buzzing I had smashed a massive PB however I then heard someone on the tannoy say "And that's David Jukes just crossing the line lets go and have a quick chat with him about the 3000 miles challenge" He then appeared with a mic and started asking me lots of questions about the challenge and then about the run I had just finished. I know I am no athlete but this guy made me feel like a medal winner getting interviewed on sky sports that day. It was so surreal.
Dean completed his in early July but with Jeff's injury problems he was behind and was literally up against the clock. The Great North Run was only months away.
Jeff did manage to complete his miles with two weeks to spare. Collectively we ran almost 4000 miles and most importantly of all we raised just over £3000 for Zoe's place and Macmillan Cancer Support. We also made it into the final ten (out of 200) of a national competition ran by Mountain Warehouse which resulted in us being flown to Devon for the final. We got to meet the other finalists as well as adventurer and BBC presenter Simon Reeve. We didn't win it but we did come in a respectable 5th position.
It was during one of our many runs we started to discuss what shall we do next to challenge ourselves. I had come up with something that would better the 3000 miles challenge, something that would grab people's attention as something more than just another mileage challenge and it was then that Destination Boro was born. It was an idea my daughter Hannah had given me a couple of months earlier. What if we sent ourselves virtually, somewhere in the world and then ran the equivalent in miles back to Middlesbrough.
We opened the challenge up to the public this time expecting maybe half a dozen people to join us. We were inundated with requests to join from all over the town and even some from across the country. The Destination Boro challenge went on for five successful years. We ran through Europe, the USA, Australia, the seven wonders of the world and around the world with each challenge. We lost count how many miles would have been ran throughout that period but it would have been in the hundreds of thousands. It also benefitted some local and national charities too raising over £15000 in total.
Although we haven't set a challenge this year I am very proud of Destination Boro. It wasn't just a running challenge in the end, it was a community. It brought people together of all abilities but classed everything as equals.